Fri Apr 01, 2022

13 Projections for 2022 (Part 4)

A collection of my own experiments
(see Intro for further explanations)
April: Jung's Superfluous Lenticular Equal-area projection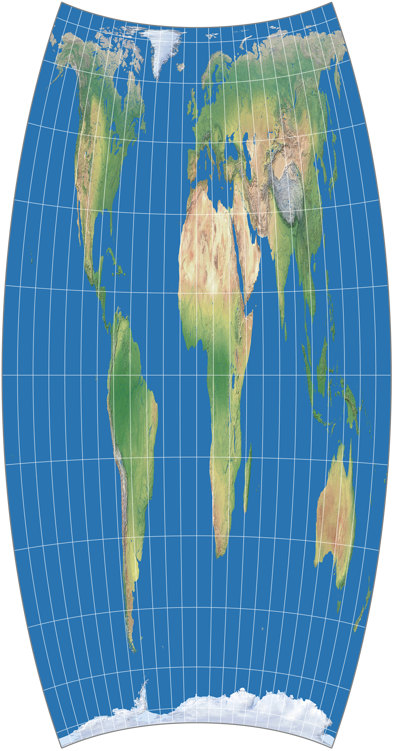 Jung's Superfluous Lenticular Equal-area projection
Original Creator
[Name withheld by presumed request][1] (1941)
Group
Lenticular
Property
Compromise
Remarks
An equal-area projection that favors polar areas.
My variation
Developed in 2021, presented here for the first time
At first glance, this projection may seem weird. But actually, it isn't!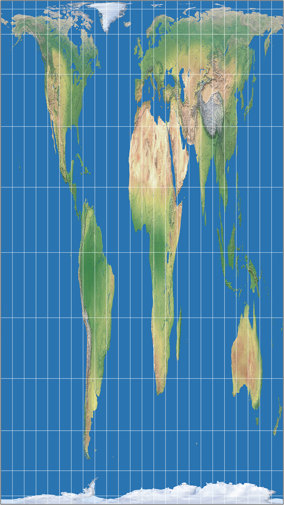 In a well-received publication that was released at the end of 2014 with a print run of 3, I presented Jung's Superfluous Cylindrical Equal-area – see on the right or above (depending on which device you use to read this page): I had noticed that none of the named equal-area cylindric projections – neither Behrmann nor Gall-Peters and not even Toblers World in a Square – represent the polar areas very good: Greenland, for example, is always terribly squished in North-South direction.
So I rendered the equal-area cylindric projection with standard parallels at 65° North/South – and voilà! Here's projection which is much more favourably on these areas!
Alright, some continents get stretched – but just look at the shape fidelity of Alaska! No other equivalent cylindrical can match this.
And now, seven years later, I came up with a lenticular "brother". I maintained the aspect ratio of the main axes of its predecessor, then shortened the pole line and added a moderate curvature of parallels. These modifications move the area with the lowest angular distortion a little closer to the poles (they are now at about 70° north/south). Places like Utqiaġvik and Sisimiut, Hammerfest and Tiksi, the Antarctic Peninsula, Wilkes Land and the Fimbul Ice Shelf are presented more accurately than in any other equal-area projection world map in equatorial aspect with a pole line. If that's not worthy of inclusion in the calendar, I don't know what is!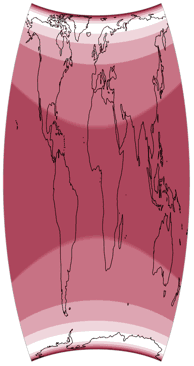 Visualization of angular distortions at 20-degree-intervals.
Darker hues mean more distortion.
And next month – I'll be more serious again.
Promise!
Footnotes
↑ I prefer not to name the author of the projection I modified. I am quite sure he would not like to have his name mentioned in relation to a work like this. 😉
Regular visitors to my website know who it is anyway.
My 2022 Map Projection Calendar
To read another part of my 2022 map projection calendar series, select the desired month.