Fri Sep 09, 2022

13 Projections for 2022 (Part 9)

A collection of my own experiments
(see Intro for further explanations)
September: Panty Projection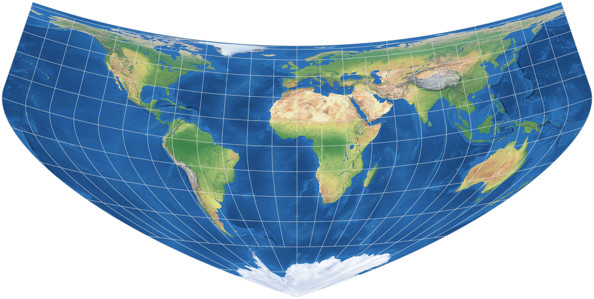 Panty Projection
Original Creator
Daniel "daan" Strebe (1992)
Group
Pseudoconic
Property
Equal-area
Remarks
Fusion of Albers conic and Bonne projections.
My variation
2021
This is a very useful projection – well, in case you're a manufacturer of underwear who is searching for a new emblem that conveys the idea that you're a global player in your line of business. And lo! It's equal-area, too, so none of you valued customers' countries are neglected.
Moreover, the projection contains a hidden treasure: While at first glance, admittedly, it looks more like comfortable but not-too-sexy panties – the visualization of distortions reveals a skimpy, sassy bikini bottom: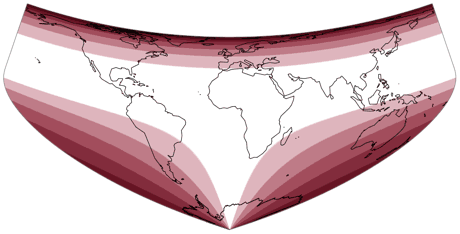 Panty Projection
Visualization of angular distortions at 20-degree-intervals.
Darker hues mean more distortion.
So, if you're an manufacturer of underwear – contact me! I look forward to becoming rich as a Lannister. 😁
But, wait – the wads of notes will have to go to Daniel "dann" Strebe, who created the Amulet Projection, shown below with a standard parallel at 45° North, while I just set the standard parallel to 6°N and called it the Panty Projection.
Damn. So much for the wealth!
Next month, I'll be more serious again. It will also be the last projection of the calendar which I haven't shown at all so far.
My 2022 Map Projection Calendar
To read another part of my 2022 map projection calendar series, select the desired month.