Tue Feb 21, 2023

13 Projections for 2023 (Part 2)

A collection of projections for political world maps
(see Intro for further explanations)
February: Robinson Projection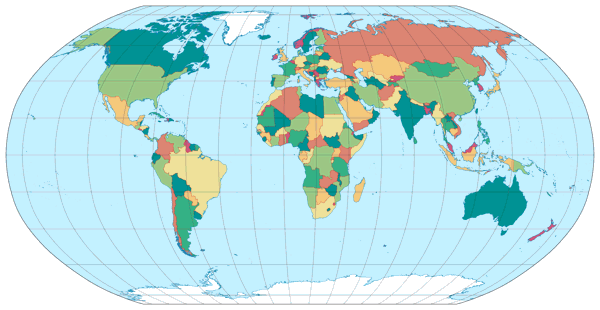 Robinson
Creator
Arthur H. Robinson (1963)
Group
Pseudocylindric
Property
Compromise
Other Names
—
Remarks
Not based upon mathematical formulas but tabular coordinates providing positions of the meridians and parallels in order to produce a »right-looking« map.
Sorry for the delay, but various things kept me from writing the February blogpost. In order to get it online before March hits, I'll make it really short:
As said in the table above, the Mr. Robinson created this projection in order to produce a "right-looking" map. And I think he really achieved that goal!
Granted, distortion metrics like the Airy-Kavraiskiy criterion will usually show that projections with equally spaced parallels (along the central meridian) – like Kavraiskiy VII, Frančula XI, Györffy B or Winkel Tripel – come up with better overall distortion values. But since (as I've said in the January part and probably lots of times before) I always like a bit less areal inflation near the poles, the Robinson indeed looks or rather feels "more right" to me.
Moreover, I have seen it used as political map in atlases and on wall maps more than once (for example, in the current edition of Meyers Universalatlas and since years in the CIA World Factbook). When I decided on the leitmotif for the calendar, it was clear to me that the Robinson projection could not be missing.
It also looks very fine in the OGABO version and the plagal aspect:
Remember that I was going to talk about Pacific-centered maps again in the January part of the calendar, but then postponed it to the February part? Well, that will be postponed to the March part…
My 2023 Map Projection Calendar
To read another part of my 2023 map projection calendar series, select the desired month.