Sat July 01, 2023

13 Projections for 2023 (Part 7)

A collection of projections for political world maps
(see Intro for further explanations)
July: Winkel Tripel Bartholomew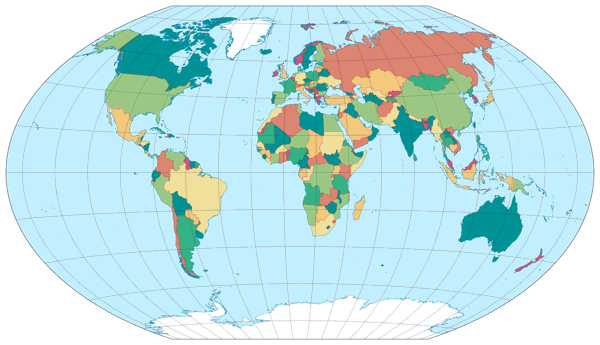 Winkel Tripel Bartholomew
Creator
Oswald Winkel (1921)
Group
Lenticular
Property
Compromise
Other Names

Winkel Tripel Times Atlas
Winkel Tripel φ0 = 40°

Remarks
This version was designed by John Bartholomew (about 1955), it uses 40° North and South as standard parallels instead of 50°28´ in Winkel's original design.
Is there anything I can say about this projection that I haven't already said in the Happy Birthday, Winkel Tripel blogpost? Well, I could note that it is still (since 50 years or something) used in the german Diercke Weltatlas, for the main and many thematic world maps …
… I could point out that it looks very good in the OGABO and the plagal version …
…and I might casually mention that however good the projection, there is always room for improvement, of which we will see a few examples shortly.
But other than that, I really don't know anything to say.
Bis die Tage!
My 2023 Map Projection Calendar
To read another part of my 2023 map projection calendar series, select the desired month.