Wed May 10, 2023

13 Projections for 2023 (Part 5)

A collection of projections for political world maps
(see Intro for further explanations)
May: Frančula VII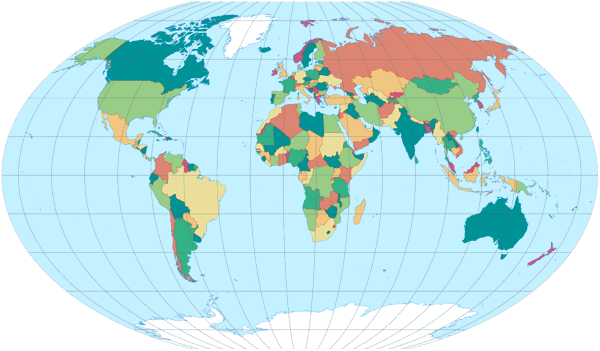 Frančula VII
Creator
Nedjeljko Frančula (1971)
Group
Pseudocylindric
Property
Compromise
Other Names
—
Remarks
A Wanger VI variant, derived by Umbeziffern from the Apian II projection, minimized distortion by application of the Airy criterion. For more information, refer to my blogpost The Frančula Projections or Frančula's original paper Die vorteilhaftesten Abbildungen in der Atlaskartographie (German).
For this month, I announced a projection that is "absolutely not an 'unusal' one". And Frančula VII, being a pseudocylindric projection with a pole line and equally spaced parallels, surely isn't. But that doesn't matter at all in this case – on the contrary, for most purposes an inconspicuous projection might even be desired for a political map.
Personally, I prefer Frančula VII because of its short pole line over other projections of this kind, e.g. Wagner VI or Eckert III. But the reasons why I added it to the calendar is: It looks like a pseudocylindrical version of the Winkel Tripel Bartholomew, especially when the two are scaled to the same width: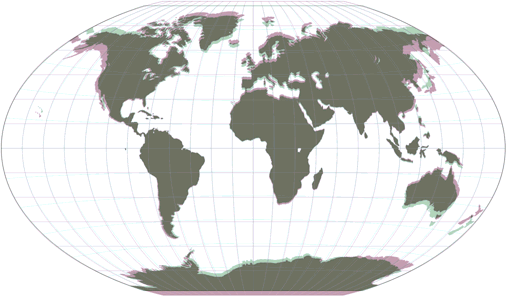 Frančula VII (red) layered over Winkel Tripel Bartholomew (green)
Winkel Tripel is a popular projection, and pseudocylindricals are a popular type of projections, so basically, a pseudocylindrical variant of Winkel Tripel should find its friends.
(Although I would prefer the lenticular projection…)
About the OGABO and the plagal version, I also can say: They are quite inconspicuous and therefore very usable.
And that's it for this month already.
In the intro to this year's calendar I said that three projections may seem a little "daring". We'll see the first of them next month.
My 2023 Map Projection Calendar
To read another part of my 2023 map projection calendar series, select the desired month.