Fri Apr 03, 2020

12 Projections for 2020 (Part 4)

To understand what this is about, you should read the intro.
April: Strebe-Mollweide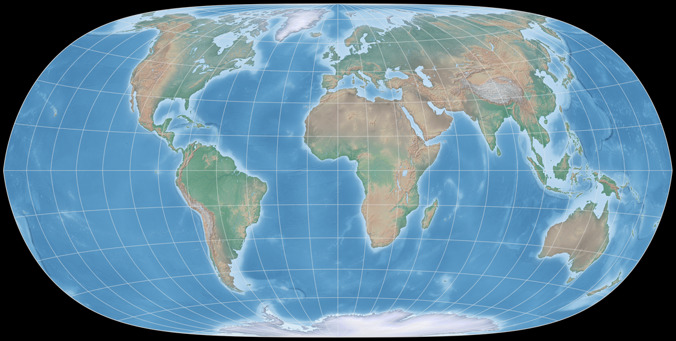 Strebe-Mollweide
Creator
Daniel »daan« Strebe (1992)
Group
Lenticular
Property
Equal-area
Other Names
—
Remarks
Transformation of the Mollweide projection, using Bonne φ1 = 16°N.
Read my blogpost for more information.

I've handled Strebe's 1992 series of equal-area projections in detail in the blogpost linked to in the table above. So for now, I think it's sufficient to summarize:
The Strebe-Mollweide is a pointed-pole projection which at first glance looks like a projection having a pole line. That's interesting because I think that to a lot of people (including myself) a pole line looks & feels more »natural« (although it actually isn't), however an equal-area pointed pole projection usually is better at showing both Africa and Greenland with tolerable distortion of shapes – which of course is nothing more than a personal preference. I simply like it when this is achieved but it is in no way an »objective« basis of assessment.
The projection has its drawbacks: Alaska looks quite squished, and the meridians' kinks at the equator were described as »undesirable« by the author himself. Nonetheless I think that it's an usable equal-area projection that deserves some more attention.
Next month, we'll have another equal-area projection, but it's going to be quite different.
I wish you all the best in these testing times!
For the Strebe-Mollweide image in the calendar, I used a slightly modified version of the Natural Earth Cross-blended Hypsometric Tints. Projected with Geocart.
My 2020 Map Projection Calendar
To read another part of my 2020 map projection calendar series, select the desired month.